See our 2014 NPSL schedule and buy your season ticket scarf today!
The United Kingdom is well-represented in today's signings, with an Irishman and an Englishman joining returning midfielder Jeff Thomas on the FC Buffalo roster for 2014.
Goalkeeper Sean Allen and defender Joe Storer also committed to head coach Brendan Murphy's club this week.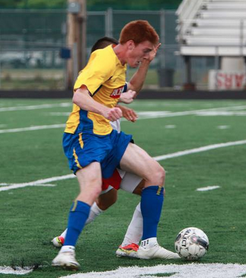 Thomas (Canandaigua, NY // Alfred University) played in nine matches for FC Buffalo in his rookie campaign, scoring once. He missed most of his season at Alfred University with an injury, but is primed for a strong summer in Erie County.
"Jeff's got great length and just a natural ability to read the game and make good decisions with the ball," Murphy said. "Jeff was a spark plug off the bench for us last year and I expect more of the same for him again this summer."
Storer is a 6-foot-1 defender from Alfreton, England, who plays his college ball at North Carolina Wesleyan under head coach Frankie Taal.
"Joe is a big English center back who will be a leader and a great communicator," Murphy said. "He is dominant in the air and can also play out of the back with his feet quite effectively.
"Frankie is a former National Champion and a well respected international recruiter who gave Joe his highest recommendation. I am excited to welcome him to Buffalo."
Allen (Wexford, Ireland // Genesee Community College) trained with FC Buffalo last summer and will be on the roster this season after posting a 9-2 record with two clean sheets for GCC in 2013.
"Sean is a very steady and sound goalkeeper who will be a quality addition to the roster," Murphy said. "He trained with us throughout the season last year and proved that he is capable of competing with players at this level."
See our 2014 NPSL schedule and buy your season ticket scarf today!
MORE PLAYER COMMITS:
– Bobby Ross returns with aims to bring trophy to FCB
– Two new faces, two returnees join 2014 fray
– Two of UB's best join 2014 campaign
– Murphy brings in four, including one returnee and three Californians