See our 2014 NPSL schedule and buy your season ticket scarf today!
Kendell McFayden is returning to Buffalo after a season-and-a-half with the Rochester Rhinos of USL Pro, one of three familiar names back in the fold for 2014.
Steven Carcaterro and Mitchell Skrabacz also return for head coach Brendan Murphy's second season, as the two versatile players prepare for another season at St. Bonaventure University.
McFayden (Williamsville, N.Y. // Medaille College) played in 26 games for the Rhinos, scoring three goals. He was named the USL Pro Player of the Week on July 11, 2012, just days after signing for Rochester from FC Buffalo. McFayden scored thrice in eight matches for FCB as he oscillated between center back and striker.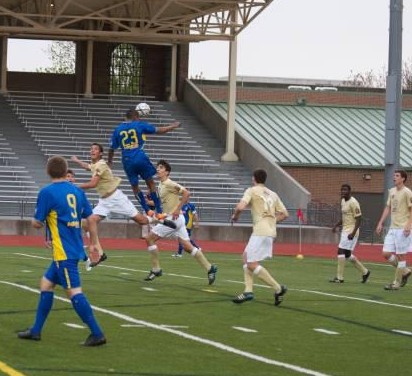 "I am interested and excited to see what kind of experience and new dimensions Kendell will bring to our team this year," Murphy said. "Kendell is a very versatile player who can give us depth all over the field."
Carcaterro (Clarence, N.Y. // St. Bonaventure University) will be playing his third season with FC Buffalo after playing all 19 games for the Bonnies this Fall, contributing a goal and two assists as a midfielder and defender.
"Steve showed tremendous improvement over the course of the season last year and had a great year at St. Bonaventure this Fall," Murphy said. "I will look for Steve to make a solid contribution this summer."
Skrabacz (West Seneca, N.Y. // St. Bonaventure University)  just finished his first season for the Bonnies, where he transferred after opening his college career at Temple University. He played in nine games in Olean.
"Mitch put in a ton of effort last season and did a nice job of adapting to the pace of the game at this level," Murphy said. "He will give us great depth again this year."
General manager Nick Mendola was asked how the roster is shaping up and the new additions.
"I can honestly say Coach Murphy has looked in all the obvious places and turned over a lot of stones as well," Mendola said. "As happy as I am to see new faces from places like my alma mater, UB, it's great to see class guys like Kendell, Steve and Mitch ready to call FCB their home again this summer."
See our 2014 NPSL schedule and buy your season ticket scarf today!
MORE PLAYER COMMITS:
– Bobby Ross returns with aims to bring trophy to FCB
– Two new faces, two returnees join 2014 fray
– Two of UB's best join 2014 campaign
– Murphy brings in four, including one returnee and three Californians