FC Buffalo's men's side won its first National Premier Soccer League game of the 2021 season and will now bid to join the women's side at 2-0 on the young season when it hosts Syracuse FC at 7:30pm at Dobson Field on the campus of D'Youville College on Friday.
Yes, you read that right.
The Wolves will host Cuse across town from Robert Rich Sr. All-High Stadium due to current restrictions and some unforeseen circumstances in May.
What will be different and what will be the same about this one-off match day at Dobson Field, located at 602 Fourth Street off the Porter Avenue exit of the 190 in downtown Buffalo?
Google Maps directions to Dobson Field | Buy limited single-game general admission tickets
Plenty and plenty. While All-High is old and historic with beat-up turf and lots of seating, Dobson Field is new and clean with a very intimate view of the pitch and a city skyline view.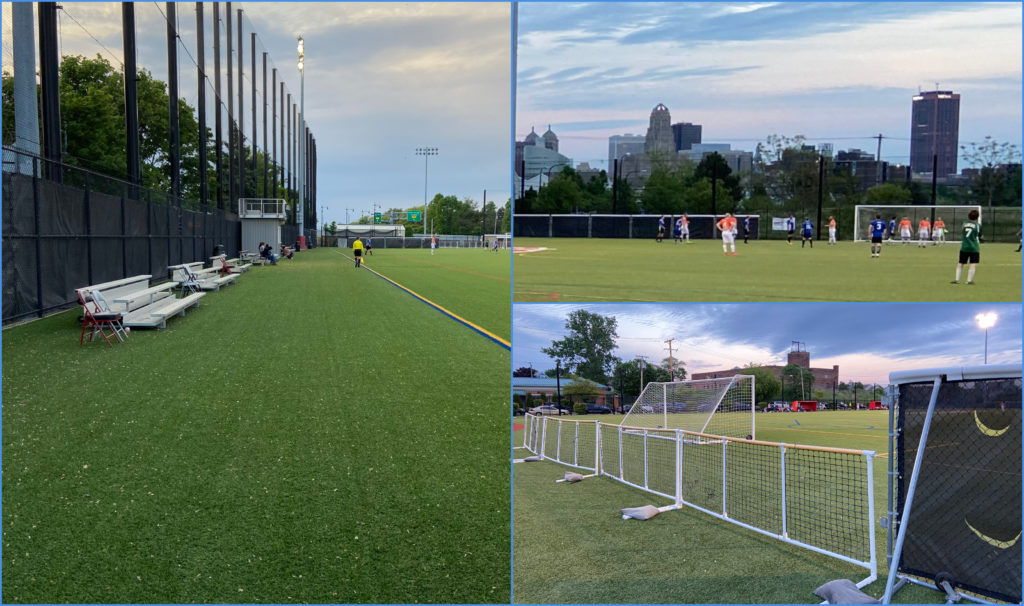 Safety
While college and amateur matches happen all the time, fans should be extremely alert to the game happening in front of them. Fans in the supporters' section could deal with well-hit shots that just miss the goal. Also, the players may use some interesting language. Social distancing is encouraged whenever possible. Much of the general admission area does not include seating (There are bleachers for just under 200). Be prepared to stand when bleachers are not available.
Weather
Look, we want you in the building, badly. We've missed you. But we'd be jerks if we didn't tell you that unless Channel 7 meteorologist and local soccer hero Aaron Mentkowski has way more pull than expected, it's going to be absolutely frigid tonight. Dress warm.
Capacity, seating, standing, and more
We are opening an extremely limited amount of tickets available to the general public at 9am ET Friday. With just under 300 season ticket holders to account for as well as player families and friends, we expect the match to sell out. Arriving at the door means you may be shutout (though the field is surrounded by chain link and there is a decent view of the action from there. We will be following New York State attendance rules in terms of governing capacity. When possible, please stand behind seated patrons to provide the best view of the action for everyone and respect the players and referees working in front of you.
Parking
There are some public lots near the stadium, but your best bet is to arrive early and take advantage of street parking around the faclity.
Google Maps directions to Dobson Field | Buy limited single-game general admission tickets
Concessions
Unfortunately, concessions are not available at Dobson Field. If you choose to bring snacks, please be sure to take care of your trash and deposit recyclables.
Entry + Merchandise and season tickets
Please enter the venue through the front entrance pictured below (Well, not through the actual picture unless you're some sort of wizard in which case, feel free). FC Buffalo season ticket holders can pick up their season tickets as well as any undelivered orders at the door. All other season ticket orders and undelivered goods will be shipped Saturday morning aside from select jerseys, which will be shipped upon arrival at FCBHQ.