Follow FC Buffalo on Facebook, Instagram, and Twitter.
When Kelsey Araujo committed to playing for FC Buffalo in our inaugural United Women's Soccer season, we knew we were getting a good player and person who played with speed and power and had earned accolades both at Niagara University and ANB Futbol in Ontario, scoring 17 goals and adding 11 assists while at NU.
Then Kelsey and her incredible teammates came together under coaches Nikki Bartholomew and Gabrielle Wilson to win the 2021 East Conference crown, with Kelsey leading the team in goals with 10 and finishing second to captain Carissima Cutrona in assists with 8.
The Portuguese-Canadian forward would be named UWS Offensive Player of the Year for the whole league, but she was out of the country even before we knew she'd earned those honors. Kelsey was off to Le Havre AC in France and, before we knew it, was scoring goals for fun in France and earned a call-up to Portugal for the nation's first-ever U-23 national team camp and a game against Spain.
So when we asked her some questions about the last few months, it was for our own knowledge as much as yours!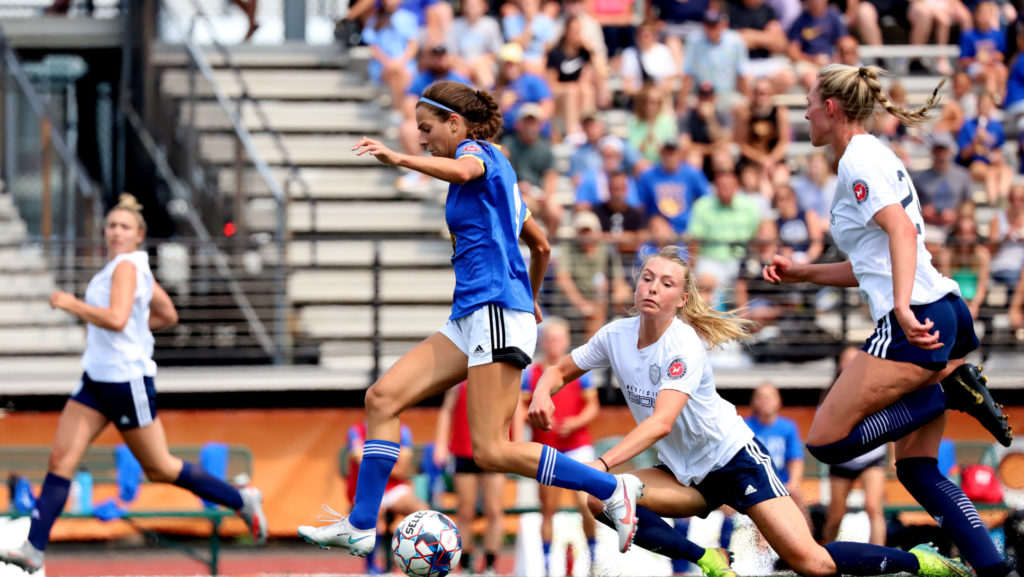 FCB: In the weeks after our season ended, while we were writing all these posts about you, your teammates, and your coaches' league honors, you were already in a new country. What was it like joining a new team and eventually signing a professional contact?
Kelsey Araujo: The whole situation was surreal. It all happened so fast. I found out on a Tuesday that I needed to be here by the Saturday if I even wanted a chance at this dream. I would like to think that the way I handled this situation and everything that has followed I did in a very excited and enthusiastically mature way. It was hard at the beginning and I still have days where I get a bit distraught because I miss home, but I'm reminded by the people closest to me just how incredible I have done thus far and what I still have left to accomplish and prove and that is what keeps me going. The team has been extremely welcoming, considering we have a major barrier being language. Majority of the girls on the team understand a bit of English and every day they are trying to teach me French, which is extremely difficult I might add. I am grateful for the teammates I have here and the staff at the club, I do genuinely believe they have made it easier adjusting to this whole new way of life.
FCB: What's the biggest difference between the soccer you've played so far in Canada and the United States, and Ligue 2 Feminin in France? And what can you tell us about Le Havre as a club?
KA: Le Havre is a great club and they do really well to support the women's side of the game. We are one of the very few clubs in all of Europe that get to play our home games out of the men's stadium. It is surreal playing at the Stade Océane on Sundays. If you have a few moments you should check it out on Google! That being said I do find there to be a difference between the soccer I played in North America compared to here. First, this is a job. This is how myself and my teammates are making a living. We have goals that we need to accomplish for ourselves and for the club that we represent. That in itself brings upon a whole different environment that I have ever been apart of. The speed of play here is consistently fast. There is no time to think about the play you want to do next because by the time you do, you probably will have lost the ball. It is a great environment to be in and I have learned a lot about myself and my game in the four months I have been here.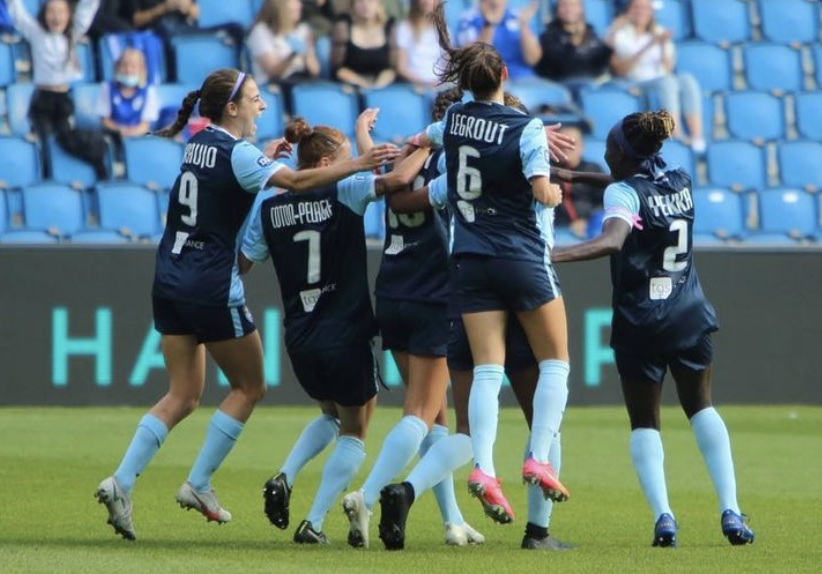 FCB: And what's it like in France? Obviously it's not as cool as Buffalo, New York, but it looks awesome. What are your favorite things to do.
KA: Definitely not as cool as Buffalo haha. Buffalo will always be my home away from home, and I can not wait to be back. France has been incredible. I live in Northern France so the weather is definitely not ideal. I may have seen the Sun a total of five times in four months. It rains all the time, but it is still incredible. My apartment is a 5-minute walk to the beach, which is such a blessing. One weekend that our coach gave us off, I went with a teammate who is also from Canada to Paris. It is only a short 2-hour train ride. That was definitely one of my favourite things I have done since I been here. Specifically in Le Havre, I like going to the beach and walking around the city trying out different restaurants and cafes along the way.
FCB: It's not a huge surprise to see you playing well and scoring goals, but it was amazing to hear you were called up to the Portuguese U-23 national team. How did that come about?
KA: That has to be one of the most rewarding feelings I have ever experienced in my life. About a month and a half into being here, 2 games into the season, my coach called me into his office. He preceded to read to me an email from the Portuguese Federation asking if I would ever be interested in representing them as they saw I was born in Canada but was playing as a Portuguese international here in France. Without question, I said yes and he said okay and that I could go. About a week later he told me he sent them my games that I had played with Le Havre and also my Offensive Player of the Year award I got for playing with the greatest club in Buffalo! I said okay and honestly had forgotten about it in the weeks following.
I was trying to text my boyfriend and brother through my Apple watch since I didn't have my phone. I texted my parents that I needed to talk to them, which I followed with its nothing bad because I knew they would panic but I really didn't know to react. But honestly, it was the most incredible feeling and I will never forget the day I found out.
FCB: How did the camp and games go? What was especially memorable about it?
KA: The camp went extremely well. I had to use all the Portuguese I had learned from my grandparents and parents growing up but in fairness the majority of the girls understood English. They would talk to me in Portuguese and I would respond in English. It all worked out. We would train every day and then recover as a group. We also would do bonding activities in the late afternoons before dinner which were all very enjoyable.
The game against Spain was one of the most difficult games I have ever played in. The way these girls possessed the ball and moved up-and-down the field I was in awe. It was such a privilege to get to play them and represent my family's and my country. The most memorable part of this whole experience is definitely the fact that this was the first-ever official game played by the U23 Portuguese Women's National Team. I will forever be part of this historic milestone in the nation's footballing world and that accomplishment is something I will keep with me for the rest of my life.
FCB: Anything else you'd like to add, or that we should've asked you?
KA: I just want to thank Nick, Liz, Nikki, Gabe and all my teammates at FC Buffalo. I struggled with knowing if I wanted to play or not following my graduation from Niagara. FC Buffalo brought my love for the game back and I credit them for being instrumental in this entire journey. I am so lucky, and I hope I am making you all proud.