[ MORE: FCB heads to Germany! ]
FC Buffalo is back for a 10th season in the National Premier Soccer League, and the club is assembling a unit to represent the Queen City with industry and flair.
Be sure to check back here often, as FCB manager Frank Butcher and coaches Casey Derkacz and John Grabowski put the next touches on a planned championship run.
We begin with two of the lynch pins of FCB.
Jan. 24 — Two players with more than 100 combined appearances for the Blitzers get us started on our road to Opening Day.
Buffalo natives Chris Walter and Kendell McFayden (above) are back in the fold.
Walter, 26, begins his ninth season with FCB. A Hartwick College graduate, Chris leads the club all-time in appearances (65) and assists (9). He won the inaugural FCB "Heart and Soul" Award and has captained the club under two coaching staffs.
McFayden is back for his seventh season in blue and gold, following an All-American career at Medaille College. Debuting in 2012 before moving to the Rochester Rhinos as a forward, "Kenny" returned in 2014 and was named to the 2015 NPSL Best XI as a center back.
Named to the NPSL's East Conference Best XI in 2018, he leads the team all-time in goals (18) and is second to only Walter in appearances (38), adding three assists.
Jan. 29 — This week's announcements include a 2018 mainstay and a new face from a school down south.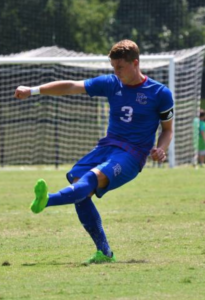 The first new player announcement of 2019 is German left back Luca Ziegler (Oberroth, Germany/ Presbyterian College). The 20-year-old has started all 40 games of his college career for coach Jonathan Potter and was named to the All-Big South second team as a sophomore following an NCAA tournament appearance as a freshman.
Luca earned three caps for the German U-16 national team in 2013, and played his club soccer for FC Heidenheim and FC Nürnberg.
Next: Sammy Wasson (Clarence, N.Y. / Buffalo State College) returns for his second season with FCB after appearing in every match for the club in 2018, scoring and adding three assists.
Sammy had a big day against his former team, posting a goal and an assist against the Rochester Lancers. The assist was a dime.
Feb. 8 — Continuing with the one returnee, one new face theme, we're excited to bring a pair of tough match-ups onto the team for 2019.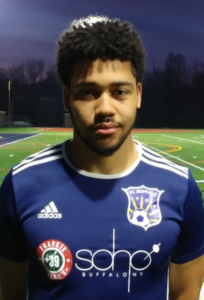 Center back Robert Williamson (Fishkill, N.Y. / Buffalo State College) returns to FCB after playing nearly every minute of the 2018 season for head coach Frank Butcher.
Williamson, 21, just completed his senior year for coach Francesco Cardillo, and added a SUNYAC First Team award to his 2017 SUNYAC second team and 2017 USC All-Region second team awards.
Rob led Buff State in minutes and scored four goals with an assist, bringing his college totals to eight goals and three assists in 62 games.
The new face comes from Jamaica in the form of 20-year-old midfielder Tevin Rochester (Kingston, Jamaica / Barton Community College).
Tevin, who turned 20 this week, saw his freshman season at Barton Community College broken up by a trip to Florida to represent Jamaica in U-20 World Cup qualifying. Tevin's four goals tied him for 14th in the tournament despite Jamaica missing out on the knockout rounds due to Mexico having a better goal differential than the also-unbeaten Reggae Boyz. Tevin also finished in the Top 20 in shots and Top 30 in passes, completing 84 percent of his 180 attempts.
He scored 10 times with three assists for head coach Mike Brown at Barton, including the Cougars goal in a 2-1 NJCAA Division I national championship game loss. He was named to the All-Tournament Team.
Feb. 18 — FCB is announcing a new midfielder and a returning goalkeeper this fine Monday in February.
The mid comes from England via Ohio and a familiar point of reference for FCB supporters. Jack Atkinson just completed his sophomore season at Findlay, where his assistant coach is former FCB midfielder Jake Cooper.
Jack's hometown is Leeds, England, but he's made himself comfortable in Findlay. He has started all 34 matches of his first two collegiate seasons, scoring twice and adding three assists while being named Team MVP. He was the only Oiler represented on the All-Great Midwest Athletic Conference team.
Returning to the fold for a second year is longtime Canisius College backstop Bryce Tramuta, who played in wins over Greater Binghamton FC and North Mississauga SC last season.
The Pennsylvania native kept four clean sheets for Dermot McGrane's Griffs this Fall, and his 5.33 saves per game led the Metro Atlantic Athletic Conference.
Feb. 28 — Buffalo native Hunter Walsh is coming back after completing his collegiate career at Canisius College, and he's bringing one of his college teammates.
Walsh, who scored a pair of goals last season away to Greater Binghamton, spent four seasons between the University at Buffalo and Canisius, collecting nine goals during his two seasons for coach Dermot McGrane's Golden Griffins.
Joining Hunter is Canisius sophomore midfielder Manuele Cavazzoli, a presence in the center of the park who has played 34 matches in two seasons since arriving from Reggio Emina, Italy.
Manu has collected a goal and four assists, but that's icing on top of his ball-winning and moving cake. Welcome to the squad, fellas.
Want to see Hunter Walsh's goal that made it a 2-1 contest? We've got you covered! #Griffs pic.twitter.com/LY1DQ45Fmj

— Canisius Mens Soccer (@GriffsSoccer) September 26, 2018
March 15 — With our Germany trip on the horizon and some matches to announce in the next couple weeks, we're rolling out even more of our roster on Friday morning. Read about them here.