by Nick Mendola, FC Buffalo co-owner
We lost someone special, and it's made me think about all the things we've gained through this club.
Don Partridge left us late last month. Don lived over 78 years on this earth so when I say he was an "o.g." we're not just talking about FC Buffalo. Don and his wife Judy were season ticket holders with places close to our hearts, and I can honestly say that some of the most memorable moments from our club trip to Germany were because of his sharp wit and wonderful life stories and his son Sean's warm laugh and kindness.
Don's daughter Vicki and her children are impossible to separate from our gamedays, each member of the family as significant to our club as any player, coach, owner, or staff member. I'm praying for their peace of mind and strength in this time.
When someone dies, I often hear lines like, "He wouldn't have wanted this to be about him." Maybe that's true with Don, but as I sit here thinking about him and praying for his loving family's peace of mind, I can't help but think that Don wouldn't mind us chatting about him, as long as we tossed in a couple jokes. When I tell you he was a fireball, I mean it in the best way.
In Don's obituary, it mentions "beloved husband and best friend of Judy." That best friend part… I love that cause anyone who knows them felt that. Don and Judy were at so many of our games including this season. Even apart from the Germany trip the Partridges live in so many of our club's most critical moments. They've made us better with support including the critical kind and I couldn't be more grateful for that.
A few years ago on Don and Judy's 50th wedding anniversary, the Partridges approached us about having our (now) captain, Chris Walter, deliver surprise balloons and flowers to Judy. He is her favorite player. Maybe she is our favorite fan. I don't know. I just know I [expletive deleted] love the Partridges.
And as I meditate on Don and his family, I'm left with warm, fond memories and a sense of wonder at how blessed our club has been to get to know so many amazing Buffalonians.
With Don (and Sean), there's a random lunch at Hofbrauhaus Frankfurt (Yes, you read that right) with amazing stories of Don's time overseas in younger years and beers in the street outside Westfalenstadion after the Lord Mayor of Dortmund surprised us with tickets to Borussia Dortmund versus Fortuna Dusseldorf, a sold-out match that will long live in our minds.
They sing, "You'll Never Walk Alone," before Dortmund matches, just as they do in Liverpool and Glasgow, and I can't help but feel the genuine intention of that when I consider not just the Partridges as members of our club and city but of everyone who's got behind FC Buffalo, whether in good times or our most challenging ones.
If you name a cause or notable news item, I can tell you a story of how our club's been impacted by it. There are all walks of life with the FCB community and it's enriched us, challenged us, educated us, made us a stronger and more vibrant club.
We had an intern who was an interpreter for the United States government in Afghanistan. We've been educated as multiple supporters have transitioned during their time with us. We count amongst our season ticket holders a U.S. Marine who, we've learned since becoming his friend, is as passionate about his service as anyone, and we have fans who fight to make sure his profession is needed in this world as rarely as possible.
We've met youth pastors and secular humanists, as well as members of the Buffalo Bills and poetics professors, and members of the A-licensed coaches who long to debate formations with us and new fans to the game who just like to sing in a soccer chorus. Not that any of these groups don't have members in the middle of the Venn diagram, but it's allowed us to grasp more than a little bit about what's written deeper inside our love for our city and region that we've ever bothered to notice when examining our relationship to Buffalo, New York.
And so back to Don… I cannot tell you how difficult it's been to fathom walking into All-High Stadium for a game and knowing his body won't be there, but I can tell you how happy I'll be to know that his spirit lives inside our club; Don's very being made that building a better place to experience whatever it means to be a part of FC Buffalo. My personal philosophy has me believing that he may even take a break from the bliss of what's in store after this earthly struggle to check in on our matches. Noted, Don. We'll do better.
And I also know that while it's fun to consider Buffalo a unique snowflake – okay, millions and millions of snowflakes together that make it very difficult to drive on certain days in December, January, and February – it's also uplifting to know that this is what's special about our sport and our world, and that even clubs you'd rather see lose every game 12-0 have people inside them that deliver what Don and his family bring to FC Buffalo.
I mean, obviously those fans deliver less than ours, but you get the idea.
So whatever you drink – whether a German lager, a black coffee, or just bottled water – raise a glass to Don and to yourself today. More importantly, appreciate those with whom you share your passion whether you get to do it for 90 minutes, nine weeks, or 90 years.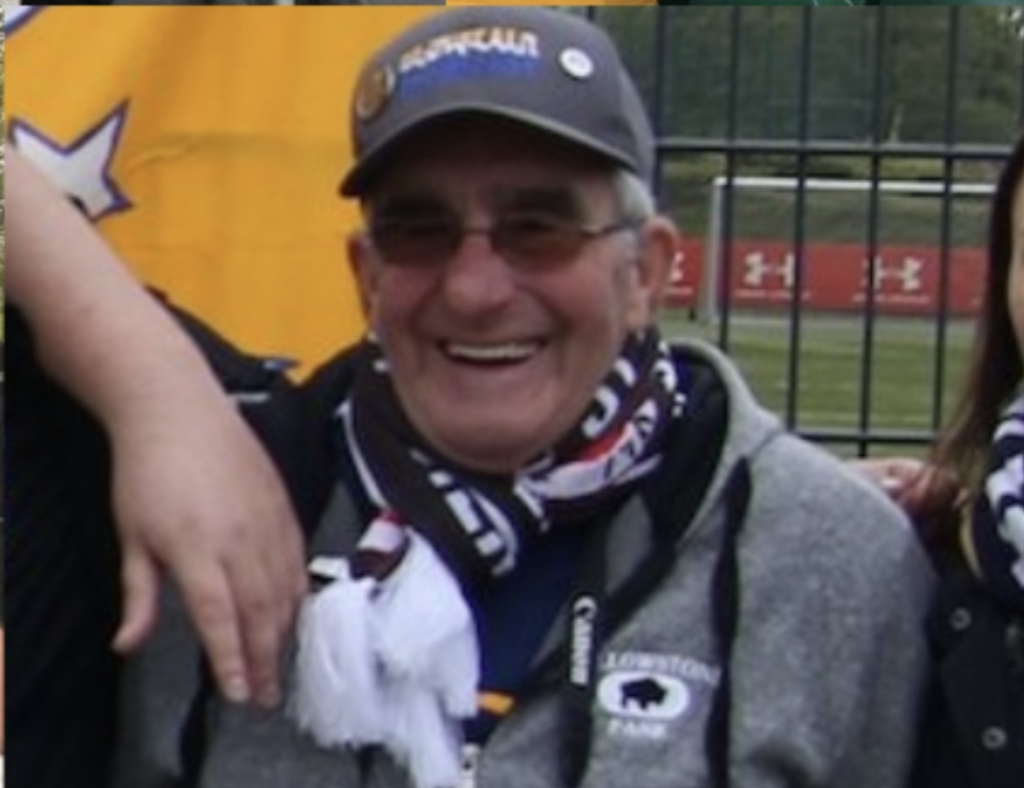 We love you, we love you, we love you, Don. And that's the way we like it, we like it, we like it.
Nick Mendola, co-owner, on behalf of FC Buffalo.