Graphic: Cory Mizer, Cleveland SC
[ MORE: FCB heads to Germany! ]
FC Buffalo is honored to welcome Monarcas Morelia reserves to Robert Rich Sr. All-High Stadium to kick off Cinco de Mayo weekend in Buffalo on Friday, May 3, 2019 for an international friendly as part of the Neighbor Nations Showdown between three National Premier Soccer League clubs and the Liga MX club.
The friendly, organized by FC Global, will serve as a send-off for FCB's players and staff, who leave for a week in Germany two days later.
Monarcas Morelia is one of the largest clubs in Mexico, founded in 1924 as Oro Morelia. Once a Liga MX champion as well as winners of the Copa MX and Supercopa MX, Monarcas plays at the 41,000-seat Estadio Morelos in the state of Michoacán, whose motto is Heredamos Libertad, Legaremos Justicia Social.
"We knew we wanted a big event to help jumpstart the season, and such a leap in competition will be a massive challenge for our players as they come together ahead of the 2019 NPSL season," said FC Buffalo co-owner Nick Mendola. "We're living in divisive times, and we're excited to make a show of friendship with a red-letter club from our country's southern neighbor."
Known as both La Monarquía and Canarios, Monarcas has produced and/or boasted players like Raul Ruidiaz (now with Seattle Sounders), Jefferson Montero (West Bromwich Albion), and retired Honduran national team legend Carlos Pavon.
It's the first time since 1930 a team from Mexico will visit Buffalo for a match, according to the Scott Hollander, associate university librarian at the University at Buffalo.
The match kicks off the Neighbor Nations Showdown, and Monarcas players will be visiting kids at a pair of Buffalo Public Schools prior to the match. Monarcas then plays at Cleveland SC on May 5, and Kalamazoo FC on May 7.
"We are happy to announce that Monarcas Morelia of the Liga MX has accepted our invitation to play a series of three friendly matches in North America," said Victor De La Rosa, founder of FC Global Group. "Monarcas Morelia of Morelia, Michoacán, will send their reserve squad for a 7-day tour in the cities of Kalamazoo, Cleveland, and Buffalo.
"With our main objective to connect the world of soccer, we're very grateful that our American friends were more than open to the idea of hosting a Mexican team in their communities. The friendly games will offer the chance to unite the community in what promises to be a "fiesta de futbol,'."
It's the third international friendly in 10 seasons for FCB, but the biggest challenge yet. We welcomed a club from outside of the United States on two previous occasions:
June 29, 2012 — Lord Bedlington Cup: FC Buffalo 5-1 Bedlington Terriers FC (England)
July 10, 2018 — FC Buffalo 4-1 North Mississauga SC (Canada)
May 3, 2019 — FC Buffalo vs. Monarcas Morelia reserves (Mexico)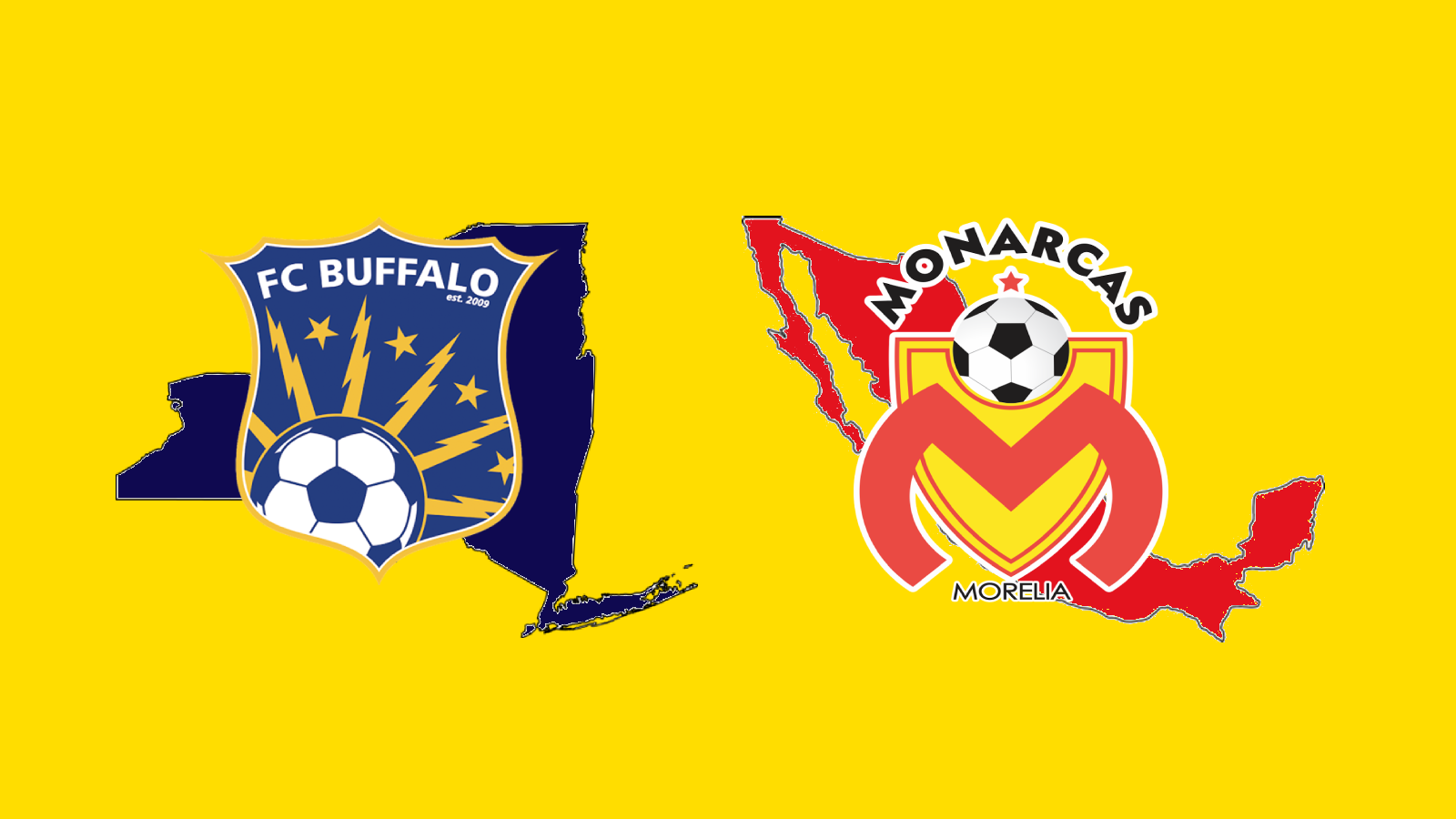 We'll have many more announcements regarding the Friday night game in the near future. For example — it's the near future to when you read that last sentence — Frank's Gourmet Hot Dogs is planning a special hot dog in honor of the visit of our Mexican friends.
Individual tickets for the event cost $18, or $10 for season ticket holders. Group/team rates are available by emailing wolf@fcbuffalo.org (Season ticket holders will get a discount code via email late Friday).
International friendlies in Buffalo
SS Lazio vs. Buffalo Blazers – June 5, 1977
TSV 1860 Munich vs. Buffalo Soccer Club All Stars – June 26, 1971
Free University of Berlin vs. Buffalo Simon Pure – September 20, 1969
Tennis Borussia Berlin vs.Buffalo Simon Pure Select – July 20, 1968
Dundee FC (Scotland) vs. Buffalo Circolo Sportive Italias – May 7 , 1967
C. Hertha 03 Zehlendorf vs. Buffalo Simon Pure Select – May 29, 1966
V. Plattling vs. Buffalo Simon Pure Select – June 22, 1963
Nuernberg vs. Buffalo Becks-Harmarville All Stars – May 15, 1953
Eintracht Frankfurt vs. Buffalo Becks All Stars – May 11, 1951
Club Marta (Mexico) Lackawanna Hispanos – August 3, 1930