When we had an opportunity to meet with one of the most successful people of the history of Western New York, we jumped at the chance and ended up working together to make an extremely memorable event attended by more than 3,800 people: The Lord Bedlington Cup.
On Thursday night, we're hoping you can help us provide an unexpected thank you.
Bob Rich Jr. is reading and signing copies of his new book, "The Right Angle: Tales from a Sporting Life", at one of Buffalo's best book haunts: Talking Leaves, 951 Elmwood Ave in Buffalo. The event is free and books will be on sale at the store.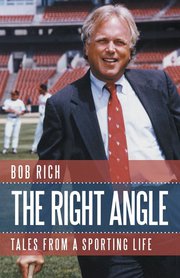 In the spirit of the newly-formed Buffalo Cash Mob, we're hoping we and our supporters can head to Talking Leaves and tell Bob — he likes to be called Bob — how happy and grateful we are that he has chosen to support soccer in Buffalo, N.Y. As pivotal a role Bedlington Terriers FC and FC Buffalo played in the event, it was Bob's generosity that allowed the Terriers to travel to the States and stay here to learn about our city.
On a personal note, Bob has taught me a lot about initiative and belief in a city and process. He even taught Scott, Joshua and myself squash. I genuinely he is a person who will inspire in just the few moments you'll share with him on Thursday, and he'll make you feel better about the hierarchy in WNY! Please join us, bring pictures or mementos of yourselves at the event for Bob and let him know what an incredible role he played in a great summer for American soccer.
Also, the book is really good.
Any questions, visit the event's Facebook page or email nick@fcbuffalo.org