FC Buffalo clinched the United Women's Soccer East Conference regular-season crown on Saturday, earning the right to host the conference playoffs next weekend as the No. 1 seed in its first season.
Coach Nikki Bartholomew's side scored a 4-0 win over Rochester Lancers on Sunday at Robert Rich Sr. All-High Stadium, getting two goals and an assist from Carissima Cutrona to stay two points clear of Syracuse after 10 games.
Kelsey Araujo also had a goal and an assist, while Marcy Barberic scored and Kat Camper recorded two assists against the Lancers. Emily Kelly made three saves for the clean sheet and Maya Palmer and Tess Ford each went 90 minutes at the back.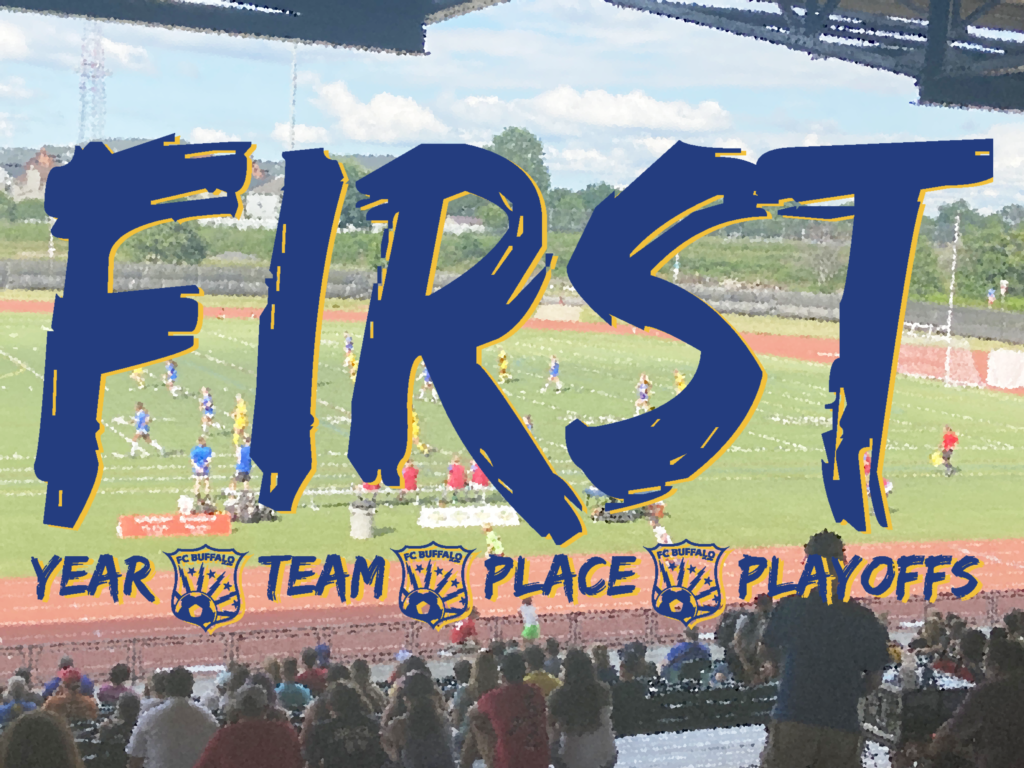 The conference playoffs will take place during the weekend of July 16-18 and will feature FC Buffalo against the No. 4 seed in one semifinal and the East's Nos. 2 and 3 seeds in the second semifinal. The Final will be played Sunday.
The winner of the East Conference playoffs advances to the UWS Championship tournament between July 23-25. The location for that tournament is to be determined.
"Our club is extremely proud of the players, coaches Nikki Bartholomew and Gabrielle Wilson, as well as director of women's soccer Liz Mantel and the women's advisory board," said FC Buffalo co-owner Nick Mendola. "They've put in a ton of work and sacrifice to drive the team forward and we're irrepressibly excited to show Buffalo off to the UWS playoff teams and leadership. Special thank yous to the players' families and especially our supporters groups for creating an electric atmosphere at All-High."
Does your business want to sponsor the 2021 UWS East Conference Playoffs in Buffalo? Email nick@fcbuffalo.org for opportunities.
Details on tickets, times, and more will be available in this space in the coming days. Keep track of the UWS scores here.
2021 United Women's Soccer East Conference Standings
| Pos | Club | P | W | D | L | F | A | GD | Pts |
| --- | --- | --- | --- | --- | --- | --- | --- | --- | --- |
| 1 | FC Buffalo Women | 12 | 8 | 1 | 3 | 26 | 18 | 8 | 25 |
| 2 | Syracuse | 10 | 6 | 2 | 2 | 28 | 5 | 23 | 20 |
| 3 | CT Fusion | 10 | 4 | 3 | 2 | 39 | 12 | 27 | 18 |
| 4 | Scorpions | 10 | 5 | 3 | 2 | 26 | 17 | 9 | 17 |
| 5 | NJ Copa | 10 | 4 | 4 | 2 | 19 | 12 | 7 | 16 |
| 6 | Lancaster Inferno | 10 | 4 | 4 | 2 | 17 | 10 | 7 | 16 |
| 7 | CT Rush | 10 | 5 | 1 | 4 | 19 | 22 | -3 | 16 |
| 8 | New England Mutiny | 10 | 3 | 4 | 3 | 24 | 18 | 6 | 13 |
| 9 | Albany Rush | 10 | 4 | 1 | 5 | 22 | 23 | -1 | 13 |
| 10 | Long Island | 9 | 3 | 4 | 2 | 9 | 10 | -1 | 13 |
| 11 | Brooklyn City | 9 | 2 | 3 | 4 | 14 | 14 | 0 | 9 |
| 12 | Worcester | 10 | 1 | 0 | 8 | 5 | 59 | -54 | 3 |
| 13 | UWS | 0 | 0 | 0 | 0 | 0 | 0 | 0 | 0 |
| 14 | Rochester Lady Lancers | 10 | 0 | 0 | 10 | 5 | 34 | -29 | 0 |