Season ticket memberships go on sale soon.
The Fall is a busy time for the FC Buffalo staff, as we keep an eye on the men and women who built our summers and another one on the players who could be the next heroes in blue and gold.
Below are the current college players who played for FCB's men and women in 2023!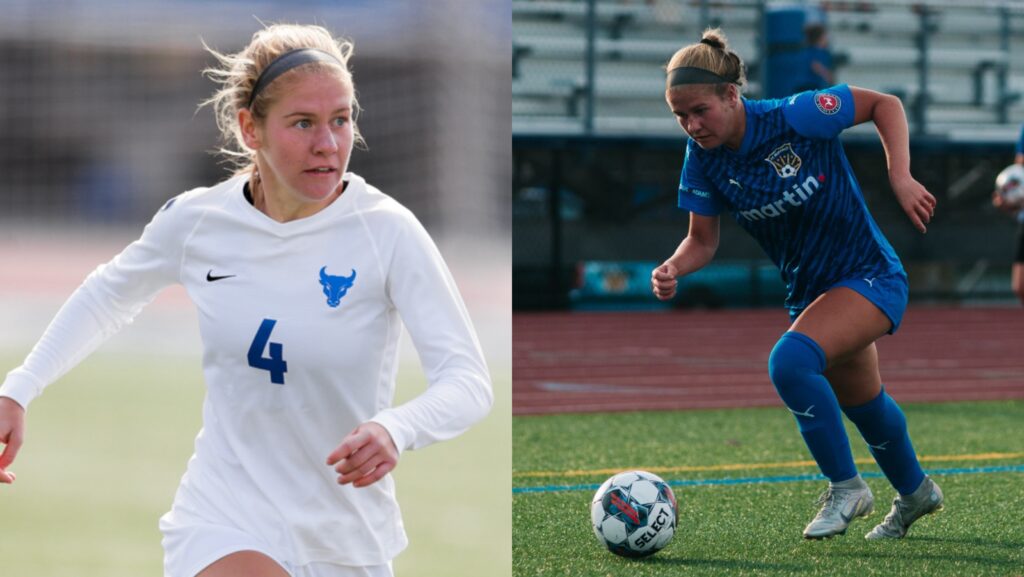 Women's team
Buffalo: Emily Lazenby, Sarah Woods, and Laura Bogner are helping the Bulls fight for the playoffs, with Lazenby second on UB in starts and minutes, Woods first (and posting an assist), and Laura chipping in as a reserve.
Canisius: Erin Weir and the Griffs are absolutely flying, and our old pal is chewing up minutes in starting 13 games and registering an assist.
Youngstown State: We've loved watching the Penguins this year, where Lianna van Sice has two goals and three assists in 10 games and Maddy Keister has a pair of goals in 14 games.
Duquesne: FCB vet Morgan Kulniszewski has rung up a Dukes' best four assists in 13 games, while over at Kentucky, Payton Robertson has a goal in 14 appearances at Kentucky.
Syracuse: Shea Vanderbosch is one of only seven goalkeepers in D-I with over 100 saves, while Emma Klein has started all of her appearances.
Loyola (Maryland): Brigid Mulholland has made her debut as a freshman goalkeeper in D-I, making eight saves against Columbia.
Nebraska: Ella Rudney's freshman year is going off with win after win after win, and she has a goal and an assist in 10 appearances.
St. Francis (Penn): Rory Schaeffer has bounded back from an injury that cost her most of the FCB season to make 10 appearances with an assist.
Siena: Kam Vanderbosch is ringing up starts, with one assist in her team-best 1160 minutes.
Albany: Charlie Pawli is killing it at Albany, playing every single minute of her sophomore season for the Great Danes, and posting two assists as well.
Cornell: Abby Bishara has scored two goals in her 12 games played for the Big Red, while Maran Kingsley has chipped in a trio of appearances in Central New York.
Gabby Gambino has collected a pair of an assists in seven appearances for Clemson, while Tatyjana Scalisi has a goal and two assists for a very good Daemen side.
Meredith Donohue has a goal and two assists in 11 games at St. Lawrence, while Gwen Jarosz is enjoying her first year at Cleveland State. St. Bonaventure's Kristin Pickard is chipping in to our old pal Donny George's new project in Olean.
---
Men's players
Our quartet of Canisius University men — Riley Wagner, Jack Petrie, AJ Zarcone, Dylan Rice — are all featuring in an entertaining campaign.. Zarcone is the Griffs' minutes leader as a freshman and has notched a goal in his 13 starts, while Wagner, Petrie, and Rice (2 goals, 1 assist) have all gone at least 500 minutes. Jack has 46 saves between the sticks. (Schedule)
Over at Niagara, three summer transfers mean the Purple Eagles roster is loaded with FCB players. Felix Kogler is leading NU in goals, while Lucas Fenton (1 assist), Jamie Barry (1 clean sheet), and Matheus Spina (1 goal, 1 assist) are ringing up big minutes. Thomas Brooks is back healthy and young bucks Robert Woods, Anthony Amato, and Luca Buscaglia are making their way into the fray. (Schedule)
The Griffs and Purple Eagles play at 7pm on Oct. 25 at NU.
Also locally, our captain Derek Bartlo is leading Daemen as usual albeit in a more defensive role this season. Bartlo's 854 minutes lead the team and he's one of just three players to play every game. Derek has an assist on the season.
It's no surprise to see Ashton Jell shining at Duquesne. The rambunctious wide man has started every game for the Dukes and has an assist for the 5-4-2 side.
Albany: Our Great Danes are doing great. Ander Castillo's first season in Albany has our leading scorer counting four goals (tied for the team best) and an assist on his ledger, while Elias Ehlin has started all 11 of 12 games and Alejandro Giner has rung up a career-best nine starts.
Kentucky Wesleyan: The Panthers are having one of their best ever seasons, and both Arthur Hill and Calum Newson have done so well. Calum has five goals and two assists in 896 minutes, while Arthur has 44 saves and three clean sheets atop his 5-3-3 record.
Our summer started with Jonah Fogel suffering a summer-ending injury in our first week of practice, so we're absolutely buzzing to see the Buffalo native crushing it at American. Jonah has started in defense for all eight games since being cleared to return to his D-I side.
Markos Touroukis has been a huge part of Binghamton's season, scoring a goal and posting a team-high 12 appearances over 850 minutes.
Monmouth: Olle Brorsson has an assist on the season in starting all 11 of his appearances at the back for a strong Hawks side.
Northern Kentucky: Nico Stoddart's first season with the D-I side has seen the Canadian score twice in 14 appearances.
St. John Fisher: Trevor Heschke has an assist in his 12 games for Cardinals, building on an awesome freshman year and late season debut for FCB.
Genesee CC: Center back Justin Madejski has two goals and two assists in his 11 starts, while goalkeeper Oliver Alaviuhkola has posted a pair of clean sheets for the 12-0-2 juco squad.
Youngsters Dominic Massaro and Griffin Dempsey (Mercyhurst) and Sam LaMendola (Cortland) are getting going early in their college tenures at D-II and D-III powerhouses, respectively, while Rodrigo Almeida (Syracuse) has made one appearance after an early injury at Syracuse.