FC Buffalo's men and women's will play their 2022 UWS and NPSL seasons at Dobson Field on the campus of D'Youville University, and we have some big news to boot:
Community Beer Works has committed to selling beer at our home games, granting one of the most-made requests from our supporters. The area behind the near goal will serve, essentially, as a beer garden, with seating along the sidelines designated for more traditional attendance.
The change in venue is due to the installation of new Fieldturf and track at Robert Rich All-High Stadium, which is also undergoing renovations.
What will be different and what will be the same about matchdays at Dobson Field, located at 602 Fourth Street off the Porter Avenue exit of the 190 in downtown Buffalo?
Google Maps directions to Dobson Field | Buy limited single-game general admission tickets
Plenty and plenty. While All-High is old and historic with lots of covered seating, Dobson Field is new and clean with a very intimate view of the pitch and a city skyline view.
The club is also working with sponsors to provide increased seating and add covered seating in some areas of the field. And we've got a new nearby home for pre- and post-game in brand new soccer pub The Banshee Irish Pub on Franklin Street.
Any questions? Email wolf@fcbuffalo.org and we'll promptly respond!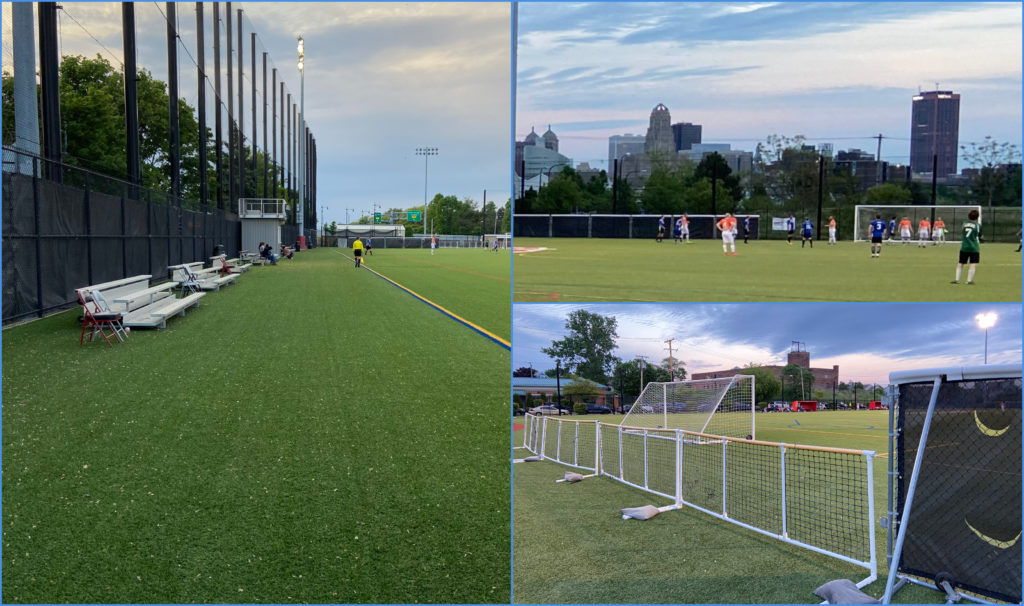 Safety
While college and amateur matches happen all the time, fans should be extremely alert to the game happening in front of them. Fans in the supporters' section could deal with well-hit shots that just miss the goal. Also, the players may use some interesting language. Social distancing is encouraged whenever possible. Much of the general admission area does not include seating (There are bleachers for over 300). Be prepared to stand when bleachers are not available.
Capacity, seating, standing, and more
Single-game seats are on sale, and we've partnered with Port X Logistics to provide a number of tents — call 'em blue collar suites — in case of weather. Capacity is not going to be an issue for most matches due to a large amount of standing room. But if fans want to sit, they should arrive early to secure a seat. There are 300 bleacher sites along the sideline and tables and chairs in the beer garden.
Parking
There is plenty of free parking located in the gigantic parking lot across the street at Front Park, and see the colored areas of the photos below to see the off-street parking. Porter Avenue also has free parking heading down to the water but they can fill up if there are events at the Buffalo Yacht Club.
Google Maps directions to Dobson Field | Buy limited single-game general admission tickets
Concessions
Stay tuned. In addition to CBW, we'll have Coldstone Creamery of Orchard Park on-site for every game, our friends from Lloyd Taco Factory will be at a select number of games, and there will also be special events including the folks from Holy Trinity Ukrainian Church grilling up goods Sunday, May 22, will all proceeds going to humanitarian aid in Ukraine.