FC Buffalo is proud to announce the first edition of our new City United program, run in conjunction with Westside International Soccer, as our club's next steps in developing and shining light on underserved soccer talent in our city, like the exceptional talent we've seen coached by the good people at WSIS.
REGISTER: CITY UNITED PROGRAM, MARCH 2021
City United will be getting ready for the summer with March 13, 14, 20, and 27 elite training sessions at Nardin Academy's beautiful new, full-sized turf fields. City United coaching administrator Bill Boyle will lead three of the four sessions with Francesco Cardillo running one while FC Buffalo players will continue to identify the next group of top talents in our area.
Additionally, FCBFLO will provide supplemental materials to high school players hopeful of making the next level, whether club or college.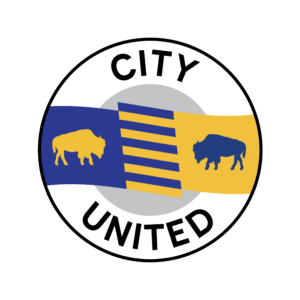 Select players from these sessions will be invited to compete in the City United summer showcase program, which is aimed at giving emergent talent training, education, and tips for reaching the next steps in soccer, whether collegiate or other.
The City United program is aimed at providing student-athletes aspiring to play at the next level with high-level training and the tools to market themselves to college and elite academy coaches. This program is supplemental to conventional travel, offering additional opportunities and curriculum to players outside their home club.
Travel coaches with questions about this additional training for their players can contact wolf@fcbuffalo.org. FC Buffalo does not run a travel or premier soccer program and is supplementing the great work done by many terrific youth soccer clubs in our area.
REGISTER: CITY UNITED PROGRAM, MARCH 2021
Players without a travel team or seeking other summer soccer can also find a home with Westside International Soccer and can learn more about its free travel soccer program during the ID camp.
All players must show student ID as proof of residency. Non-residents (players living outside the City of Buffalo) will be asked to make a general donation to West Side International Soccer.
There is no additional fee if selected to participate in the showcase program, which will run later in the summer and prepare players for the forthcoming travel, high school, and/or college seasons.