Photo credit: Ben Tsujimoto / Buffalo News / twitter.com/BN_Soccer
Five goals, eight yellow cards, and plenty of controversy dotted the landscape of FC Buffalo's NPSL Members Cup debut on Friday night in Pennsylvania.
Soccer was back — albeit with masks and social-distancing around Erie's Veterans Memorial Stadium — as FC Buffalo beat Erie County Derby rivals Erie Commodores 3-2 in a thriller.
[ BOX SCORE: Erie Commodores 2-3 FC Buffalo ]
Cleveland SC and Pittsburgh Riverhounds drew 2-2 in the tournament opener earlier in the evening, meaning FCBFLO controls its destiny and can win the cup with a victory over Cleveland on Wednesday at Cathedral Prep in Erie, a match which will also serve as the opener to the NISA Independent Cup.
Akean Shackleford scored twice to give him 15 career goals for the Wolves, with Robert Williamson converting a Nukelle Gboe-won penalty for our other goal. Colin O'Keefe and Ali Shawish set up Shackleford's goals.
Eight of FCB's 17 players to take the field Friday were making club debuts, including starters Jayson Repine, Nukelle Gboe, Rockshell Antwi, Andreas Queen, and Saleman Salim. Coming off the bench to debut were Nemanja Simic, Peter Massaquoi, and Derek Bartlo.
Captaining FCB with Chris Walter out injured, Williamson (below) had a marvelous match at the heart of the defense and opened the scoring when Gboe was chopped down in the box just before halftime.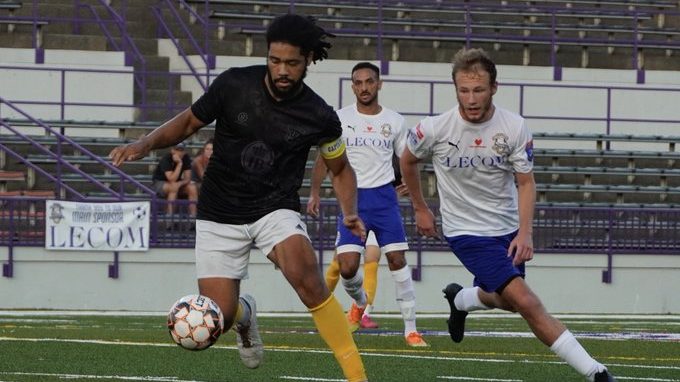 Erie leveled the score line with an outstanding goal off a corner kick played to the top of the box, but FCBFLO had an answer.
Starting strikers Nevado Elliott and Hunter Walsh tempted the scoreboard several times, but substitutes combined to put the Wolves ahead when Ali Shawish's dribble and rip deflected onto the path of an alert Shackleford.
It then took less than three minutes for Shackleford to slot a beautiful team goal, the last pass coming from an effervescent O'Keefe on the right side.
Erie was dangerous late, scoring an Olimpico but having it taken off the board as FCB goalkeeper Andy Queen was contacted while bidding to slap it over the bar. The Commodores would get one but no more and FCB took all three points.
Be sure to check out MyCujoo on Wednesday evening for what could be a match-up for silverware with Cleveland SC.
FCB v. ERIE: Queen; Antwi, Williamson, Repine; Drayer (Massaquoi), Acevedo (Simic), S. Salim, Gboe (Mohamed), O'Keefe (Bartlo), Walsh (Shackleford), Elliott (Shawish).
Follow @FCBuffalo