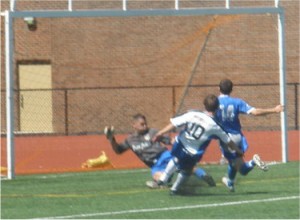 FC Buffalo's debut will be remembered for many reasons, not the least of which was the outstanding play of goalkeeper Dan Panaro.
The 3-0 score suggests otherwise, but Panaro (Kenmore West/Canisius College) kept the home crowd cheering and the 2009 NPSL runner-up Erie Admirals from putting up huge numbers.
Former Queen City FC player Afrim Latifi opened the scoring for the visitors, who hammered plenty of Molten balls at Panaro. Erie's Conor Meade then notched tallies on each side of halftime to give the Admirals their three-goal decision, and the same amount of points. For his efforts, Meade was named Man of the Match. Many onlookers alternated between nominating Panaro and midfielder Rich Wilson for the honor on the Blitzers' side.
The Blitzers came closest to scoring when the game was still within two, but Kyle Westerholt couldn't find the handle on a loose ball in the six. FC Buffalo's next game will be Sunday, June 6, at 3 p.m. and at Robert E. Rich All-High Stadium.
The coach, players and staff wish to thank the over 200 folks who spent their the Saturday of their Memorial Day with us, in particular the absurd antics of "The Ga Ga Boys."
Chants and signs? All we needed were drums and a win and the ownership group's debut would've felt even better.
Starting XI: Panaro, Larracuente, Johnson, Steinmetz, Gaylord, Stuczynski, Zorn, Unwin, Wilson, Tiedt, Stevens. Subs: Catchpole, Stern, Westerholt