[ SEE: 2022 Change Kit in FCB's online store ]
FC Buffalo's third jersey for the 2022 season is a nod to our past with a hopeful eye to Buffalo's future, as the club is humbled to partner with Northwestern Mutual to use its 2022 Change Kit to help raise funds for groups invested in the long-term growth and recovery of the Eastside of Buffalo.
Two years after FC Buffalo worked with Unite By Night to help implement a National Federation for Just Communities of Western New York diversity education and training session for an institution or organization that normally could not afford it, our club is grateful to work with UBN to benefit three groups:
Voice Buffalo – a group whose aim is to "faithfully bring forth social justice and equity in our region through organized, collective action."
Crisis Services – a 24-hour comprehensive crisis center and community resource whose first responders provide support to anyone in need.
King Urban Life Center – a Genesee Street organization "committed to preserving the historic building it occupies, fostering radical neighborhood transformation, and delivering innovative educational programs to members of all ages, with a focus on young children and families."
The black and grey version of the Front Porch-designed "Buffalo All Over" blue home kit features alterations including the Voice Buffalo logo across the chest, a "Jefferson Strong" graphic on the right sleeve, and the words "Against Racism" across the back nameplate. The jerseys are being produced by Buffalo outfit Corner Kits.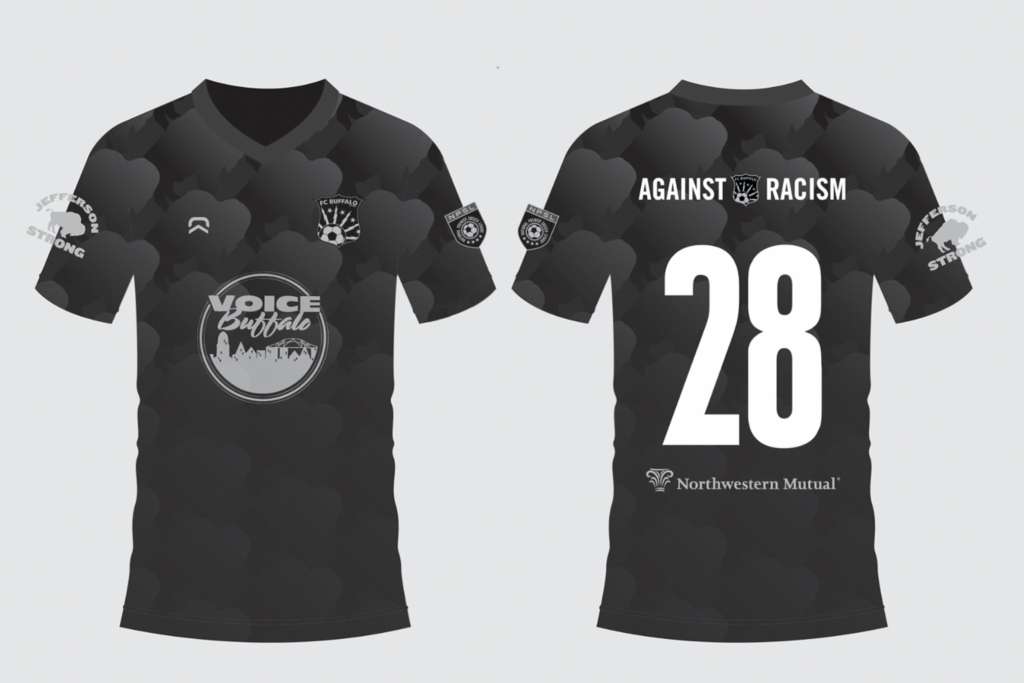 It was produced in conjunction with Pastor John Sullivan, board chair of Voice Buffalo, and Nii Sowah, board member of Unite By Night.
Northwestern Mutual is producing the jerseys as part of a $3000 commitment to awareness and resources to be spread between three groups that are helping the Eastside recover from the vile mass shooting aimed at the Black community that took 10 lives through domestic terrorism:
Roberta A. Drury of Buffalo – age 32
Margus D. Morrison of Buffalo – age 52
Andre Mackneil of Auburn, N.Y. – age 53
Aaron Salter of Lockport, N.Y. – age 55
Geraldine Talley of Buffalo – age 62
Celestine Chaney of Buffalo – age 65
Heyward Patterson of Buffalo – age 67
Katherine Massey of Buffalo – age 72
Pearl Young of Buffalo – age 77
Ruth Whitfield of Buffalo – age 86
"As a Buffalo native raised around Jefferson Avenue, this recent attack on innocent black lives tried to decimate the soul of an already deprived community. Yet, amongst such tragedy and pain, our community continues to persevere in pursuing a more racially equitable society; I refer to this as Jefferson Strong! Allies like FC Buffalo and Northwestern Mutual's partnership with Buffalo Eastside is a call to address the racial disparities within our great city and the end to white silence that gives hate permission to flourish. Because collectively we believe that when Jefferson is strong, the City of Buffalo becomes stronger."

Pastor John Sullivan, board chair Voice Buffalo, financial representative Northwestern Mutual
"Our hearts, prayers, and resources go out to the people of Buffalo in support of their children and families during this difficult and trying time. We are so thankful to partner with FC Buffalo to make a difference in the community of Buffalo and for families and children that have been impacted. This is what Northwestern Mutual is all about," said Paul Dodd, managing partner of Northwestern Mutual.
What is a Change Kit?
In North American sports, teams not wearing their primary or home jersey refer to their uniform as the away or third jersey. Overseas, they often call it a change kit.
We could use a fair bit of change over here.
Our club has been overwhelmed by the incredible efforts of groups in our community, especially those like Pastor Sullivan at ground zero of this horrible, horrible tragedy. We're grateful to be able to contribute part of our 2022 jersey toward raising awareness and funds towards social progress.
PRE-ORDER YOUR 2022 CHANGE KIT IN THE FC BUFFALO STORE