Greetings to the FC Buffalo community,
We hope you've been as well as possible during this troublesome time of separation and upheaval in our city and world. We miss you yet know that it's more important than ever to respect social distancing guidelines if we're to get on the field anytime soon. Thank you for playing your part against this formidable coronavirus.
Unfortunately, a much older and vile pandemic has reared its head in racism. Following the reprehensible displays of bigotry in the United States that showed us just how far our country has to go to defeat a fortified enemy like racism, FC Buffalo has engaged in a long process of evaluating how we as a soccer club can best be a part of the solution.
In North American sports, teams not wearing their primary or home jersey refer to their uniform as the away or third jersey. Overseas, they often call it a change kit.
We could use a fair bit of change over here.
Our role
We made a statement after the killing of George Floyd amplified the overdue discussion of racism in our country, of course, but we needed to be more than a statement and have been working to assess our role.
We've engaged in deep dialogue with players, former players, community members, and staffers about their feelings and experiences as members of the black community in order to gain a deeper understanding of how we can support them and affect change in a challenged world. Our club owes its existence to the contributions of our players and we're grateful for our discussions with them.
Action now
The club is addressing this problem on several fronts, both directly helping minority talent in our soccer community and educating the wider culture on diversity and inclusion.
Anyone interested in supporting, joining, or funding these initiatives should email nick@fcbuffalo.org.
We're using Minneapolis-based, minority-owned Stimulus Athletic to produce a special black jersey bearing an "Against Racism" logo atop the back and our city's street map sublimated into the fabric. At least half of all proceeds will go to the following two initiatives. You can see and buy the Change Kit here. It is presale this week and will take up to five weeks to produce.
We're allying with local not-for-profit Unite By Night will set up a National Federation for Just Communities of Western New York diversity education and training session for an institution or organization that cannot afford it.
We have begun the process of starting a scholarship in honor of our diverse alumni that will benefit local high school players from our people of color community in pursuit of their academic or professional dreams. Businesses who would like to help us in this endeavor can email nick@fcbuffalo.org for details.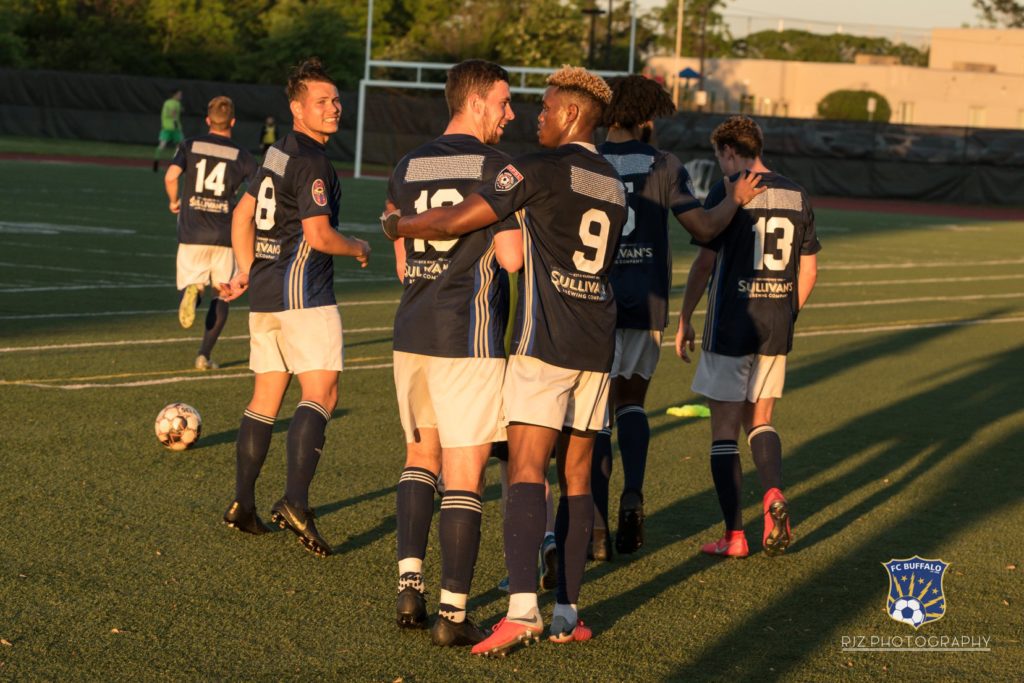 Why these words and these organizations?
When we were abroad we were struck by German clubs including FC St. Pauli and Borussia Dortmund using the phrase "Gegen Rassismus" or "Against Racism." There were no plays on words or elaborate mottos needed there. It's simple, up front, honest, and real.
Unite by Night's mission is to support Western New York nonprofits and community stakeholders who combat racism, bias, and discrimination while promoting diversity and inclusion. You can learn more about them at www.unitebynight.com
The National Federation for Just Communities of Western New York (NFJC) is a human relations organization dedicated to overcoming racism, bias, and bigotry by building a just and inclusive community through education, advocacy, and engagement. Since 1951, we have worked with schools, local governments, businesses, agencies, faith groups, and more to strengthen and grow the bonds of community within our richly multicultural region. Now, more than ever, we continue to bridge the gaps that may divide us while creating allies in our mission and work. Their official site is www.nfjcwny.org
Stimulus Athletic was started by Brazilian immigrant Geison Moura to provide affordable, unique uniform options to soccer teams around the world. Find them at stimulusathletic.com.
"It's really easy to talk about how things should be, but it's not easy to go out there and make it happen. So to partner with an organization that is actively doing things to positively impact their community is a great honor for us. We believe that who we are today is a reflection of what type of "Stimulus" and influence we received along the way and this project fits perfectly with our mission," Geison said about the 2020 Change Kit.
We'd also like to thank our 2020 sponsors Hofbrauhaus Buffalo, Mes Que, Sullivan's Brewing Company, and new friends Dressel Chiropractic for endorsing this idea.
What's next?
Our goal for as long as we're a club is, of course, to bring soccer to the City of Buffalo and Western New York as a whole.
But it's also to use whatever platform we're given by this beautiful game to prop up the better parts of our society while standing together as players, supporters, and workers against obstacles to equality, justice, and a better community.
As the co-owner and president of our club, I've been haunted by a set of admittedly out-of-context lyrics from The Hold Steady, coincidentally a band with Minneapolis ties. The lines from "Stuck Between Stations" go like this:
"She said, 'You're pretty good with words
But words won't save your life'
And they didn't, so he died."
There was an article this weekend that claimed the latest attempts at social reform were unlikely to lead to major policy change in our country. That's unacceptable but also sadly predictable and we can't let that cynicism defeat us.
It's daunting that the mobilization of so many righteous and peaceful souls could be stifled by deaf ears and disingenuous leaders, but we all have the ability to directly affect change in our community and become an example to those in our orbits.
The club our staff, players, and supporters have built over 11 years demands that we operate as a vocal part of the city we love, not a mere sports team. We ask that you continue to hold us to this.
Just because we're not (yet) playing soccer doesn't mean we're not playing a role.
Thank you for being a part of the solution,
Nick Mendola
Co-owner, FC Buffalo