Whenever we decide to work with a partner, whether its a start-up like Picnic Grille or a Buffalo giant like Rich Products, we want our supporters to know why we've climbed into that proverbial bed. After all, in order for us to grow, we need you to continue to support us. We're a blue-and-gold family here.
So let me tell you a bit about why we've signed a multi-year agreement to outfit FC Buffalo in the gear of sportswear provider Admiral.  You can read the press release from the company here, for one thing, and see many very cool business-like things about Admiral. But we want to be on the level with you at all times.
Being a young club and business is very rewarding but far from easy. Our players, supporters, friends and family keep us going regardless of the obstacles placed in our way. We're not Manchester United nor Ajax, so we appreciate those who see our vision and meet it.
From the moment we began talking with Admiral CEO Paul Hamburger, we felt like we mattered to his company. He pursued a relationship with us through 1000s of questions despite the fact that his brand has been on the chest of clubs like Spurs, nations like England and even Stateside on the backs of Giorgio Chinaglia, Johan Neeskens and some guy named Franz Beckenbauer (He has a move or something).
Admiral has promised to provide us the best and fastest service and a quality product. We cannot unveil what our kit will look like just yet, but we can tell you that it will boast both blue and gold. It's also stunning. The company has also vowed to produce a number of high-end FC Buffalo products and stock them in an online store, something we would not be able to do without a manufacturer of their magnitude.
Even before our kit comes out, Admiral is offering 20 percent off their apparel and equipment to all FC Buffalo fans who go to their store and use the promo code 5QP2CH32F.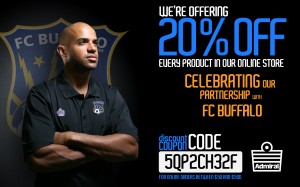 So we're going to look good, feel right and play well in Admiral gear in what we hope is a long and fruitful relationship. Yes, we know our rivalry is strong with the Erie Admirals, but we promise you that our sportswear company is the only Admiral that will be able to keep up with us this year.
…And out come the wolves,
The ownership of FC Buffalo